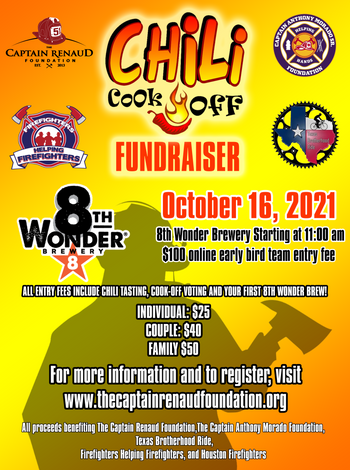 2021 Chili Cook Off
October 16, 2021 11am
You got what it takes to win a Chili Cook off?? 4 Great Organizations have come together for ONE reason....Houston Firefighters!!!
Everyone is welcome to compete and attend. All proceeds go back to support these 4 awesome foundations that exist to support Houston Firefighters!
Cook Off Rules
Registration
Registration for the Chili Cook-Off will be completed online at www.thecaptainrenaudfoundation.org. The registration fee is $100 per team up until October 15,2021. The fee will be $150 at the door the day of the event. A valid email is required for registration. Email is used to communicate with teams prior to the cook-off.
Registration fees can be paid in cash or check at the door or by credit card online. Make checks out to the Captain Renaud Foundation.
Entry, Entry Fees and Sites
The registration fee entitles each team to one 12 foot by 12 foot cooking spot, and one chili entry. Each chili entry must provide 20 pounds of meat to be inspected prior to cooking. Sites will be assigned on a FIRST COME, FIRST PAID basis. You will get your site assignment the day of the event.
Entry Fees
The entry fee is ONLY for people who just want to come to support the foundations and the teams. Those who do not want to participate in the tasting or voting will NOT be required to pay an entry fee.
Showmanship
Each team can participate on the showmanship competition. Showmanship includes pre-cook off propaganda, site/tent decorations and theme, day of event skits, storefront appearance and team enthusiasm.
Electrical, Water and Ice
The site does not provide electrical, water or ice to the teams. Propane is allowed.
Day of Cook-off
Set up can begin at 11:00 pm at the site. Remember you only get a 12x12 spot so a 10x10 tent is recommended. Team Captains are responsible for the conduct of their team members! Make sure everyone associated with your team behaves.
Each team must have a working fire extinguisher.
Chili Guidelines
Ø All ingredients must be pre-cooked and treated prior to event- Chili is to be brought ready to eat but can be reheated.
Ø All chili must be made from scratch
Ø You must present your ingredients to the judges
Ø Every team must have at least 4-5 gallons (20 pounds of meat per chili) which includes public tasting and judge tasting.
Ø Chili can include any kind of meat or combination of meats cooked with chili peppers, vegetables various spices and other ingredients with the exception of items such as beans or spaghetti, which are not allowed
Ø Each team is responsible for policing and cleaning up the area and removing all items from the area. There will not be an area for cleaning dishes
Competition turn in cups will be available at the registration table at noon. It is your team's responsibility to send a representative to pick it up. Competition chili must be turned in by 2:00 p.m. Awards will begin at 4:30.
Award Categories
· Overall Winner (Judges choice)
· People's Favorite
· Fire station Favorite
· Fire station Least Favorite
· Best Showmanship
Teams may begin packing items used in cook-off away at any time but you may not begin tearing down your site and removing large items to your vehicles until after the conclusion of the awards ceremony. Trash from your site must be bagged in strong trash bags. All bagged trash MUST be placed in the dumpsters or taken with you when you leave.